No Ordinary Joe
A Reflection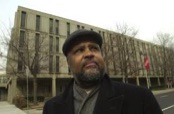 Joe Browne was my most important source for this story for several reasons. For starters, he led the group of black students involved in the planning and logistics of the historic takeover. Secondly, he was influential in the negotiations that resulted in the takeover's non-violent settlement, one that increased the number of black students and faculty on all of Rutgers' campuses. And third, he was willing to meet me face-to-face and talk about what it meant to him, 35 years later.
I recall waiting patiently on a bench and spotting a man with a cane hobbling across University Avenue around 7:30 on a Friday evening. Joe said he was suffering from severe arthritis, and the pain in his eyes as we entered the building was apparent. Meeting Joe exemplifies why it is so important for writers to not only interview sources face-to-face whenever possible, but also why picking the right location can be helpful.
I've worked for editors/bosses who prefer phone interviews to save time and money, believing personal meetings are an extravagance. I know I could never have told this story as effectively if I hadn't interviewed Joe and some of the other sources for the story in person.
As Joe and I walked through the deserted and eerily quiet box-like building, memories of the occupation he led came flooding back to him. At the end of one corridor, he talked about how he and the other Black Organization of Students (BOS) members fastened chains to the door handles. We visited an auditorium that had been their main meeting area and a tiny room where the switchboard (which the students had learned how to use) had been located. In an upstairs conference room, Joe recalled the group taking a graduate student hostage, only to realize he was missing just a few hours later. That nugget led to a sidebar and later an entirely different piece (titled "Vietnam War posters" in the Activism section of this website).
It was clear that Joe had battled some demons since the 1969 takeover; Joe didn't receive his undergraduate degree until 1980 and was admitted to the law school, but hadn't earned his law degree until 1993, well into his 40s. An obstacle may have been his arthritis, but he hinted at some other things.
Joe joked that he had spent four decades of his life connected to Rutgers in some capacity, but there was a twinge of regret in his voice. After the tour, we headed crosstown to his favorite soul- food restaurant. During dinner, Joe let his guard down a little more and offered insight and perspective that only comes with the passage of time: "We thought we were making the city a far better place. In some respects, we did, but in other respects, we didn't accomplish much at all. But I can safely say that we made Rutgers a far better place, and that counts for something."
To that point in my Rutgers Magazine career, I had written almost 20 cover stories, and no one story deserved the cover more than this one, for its drama, game-changing consequences, the milestone it marked, and simply because it had never been told in the magazine before. The cover chosen was an art professor surrounded by fake baby chicks used in a painting. A nice, cute image, but not exactly the compelling cover subject the readership or the black students deserved. While the Rutgers brass always made a huge deal out of recognizing the takeover's anniversary — when push came to shove—baby chicks trumped the impact that the event had on the thousands of minority students who came after.
By the time I dropped Joe off at his house in the South Ward, I think we genuinely liked and respected one another, and felt it had been a productive evening. A year later I heard that Joe had died. I, for one, will never forget him, and Rutgers shouldn't either.